Since 1997 the British Independent Motor Trade Association has been the one you can trust. Recognised by the AA (NZ), DVLA, Department for Transport, HMRC and Trading Standards, we offer unrivalled advice and services, to both the general public and traders, on all aspects of Japanese imports and the export of vehicles from this country.
Japanese imports are real value for money – but not if they've been stolen or clocked. You can dramatically reduce the chance of buying a dodgy vehicle if you carry out background checks. BIMTA offers unique money back guarantees with checks on imports from just £49 plus VAT.
It was BIMTA that first created mileage checks, and background checks, on imports. Today we hold true to our core values of providing a fair deal. If our checks do not reveal any data on your vehicle there is no charge.  If our mileage check is later proved wrong we will buy the car off you. We are the only organisation to offer such a guarantee. The BIMTA certificate stays with the car making it easier to later sell the vehicle or trade it in.
Checks are available to the general public as well as BIMTA members. Prices listed below are for non-members. Reduced rates apply for BIMTA members. Terms and Conditions apply. Proceeding with an application will confirm your acceptance of these Terms and Conditions. 
Please allow between 1-2 working days for mileage checks and 2-3 working days for full vehicle checks to be processed. (Please note that checks will take longer between 13th -20th November        due to staff holidays)
BIMTA can also offer you Dating Certifcates on Japanese imports – the only organisation authorised by DVLA to provide such a service. The certificates accurately date vehicles where a registration number is required. For more information email details of your vehicle to queries@bimta.org
Already a member of BIMTA?
Sign in to receive a trade price discount.
The British Independent Motor Trade Association (BIMTA) is the only official UK trade body established solely to represent the independent vehicle import industry. Our Members bring thousands of vehicles across each year from Japan.
We are recognised by the Government and agencies, including the DVLA, the Department for Transport and HM Revenue & Customs, as the definitive 'voice' of the independent sector, and are the ONLY body in the UK to offer money-back guarantees on vehicle checks. And we do this in partnership with the Automobile Association (New Zealand) which is the leading motoring organisation in the world when it comes to background checks on Japanese imports.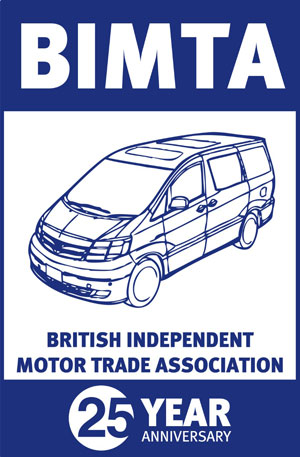 We famously led the campaign to equalise car prices between the UK and mainland Europe, and have been instrumental in working for Government legislation and regulation designed to protect the consumer from unscrupulous vehicle dealers.
Our services for vehicle buyers (both trade and private) include exhaustive checks on newly imported vehicles – which are backed up by a money-back guarantee, providing peace of mind when buying an import.
Our money-back guarantee covers vehicles where the odometer reading at the point of sale in Japan has been confirmed by BIMTA. If evidence is later produced proving that the reading was inaccurate, then BIMTA will reimburse the claimant for the market value of the vehicle at the time the claim was made.